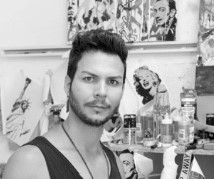 WEDNESDAY 13TH SEPTEMBER
Graffiti Inspired Pop Artist YUVI to visit Genesis Gallery.
Genesis Fine Art
6:00pm - 8:00pm
Yuvi describes himself as a graffiti inspired pop artist. His work includes superheroes, scientists, artists, movie stars and animals. Using humour and defiance to give artistic voice to his world view.
Combining traditional techniques with digital technology and a variety of medium, Yuvi produce his spectacular eye catching work on a range of canvas, sculptures and instruments.
RSVP
INVITATION
CONTACT GALLERY